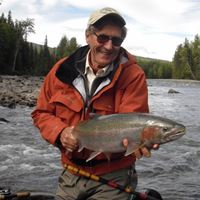 Lani Waller
Founding Director, The Babine River Foundation; North Coast Steelhead Alliance
Fly Fishing Hall of Fame
InCall® Rates
| Duration | Price |
| --- | --- |
| 15 minutes | $75.00 |
| 30 minutes | $125.00 |
| 60 minutes | $235.00 |
Biography
Lani has been fly fishing for trout and steelhead for over fifty years, and is considered one of the foremost experts on trophy British Columbia steelhead. His three award winning steelhead videos done in 1984 for Scientific Anglers 3M are classics, and in 2008, he completed a fourth film to compliment the three original films. Today this project, titled "Lani Waller's Steelhead Legacy" is considered by most experts to be the best how to do it fly fishing film of all time. His love of steelhead continues and he is currently the Executive Vice President of Silver Hilton Steelhead lodge, located on the Babine River in northern British Columbia.

Lani has also pursued salt water species for over three decades and has taken all major species on a fly, from bonefish, tarpon and permit, to sailfish and Blue Marlin. As part of those travels he founded Worldwide Anglers in 1983, and in 2003, he joined forces with Fly Water Travel of Ashland Oregon in 2003. Today, he serves as a member of their Board of Directors.

Lani's articles have appeared in all the major fly fishing publications and he has been on the editorial staff of Fly Fisherman Magazine and Wild Trout and Salmon magazine. Lani has written two books: "River of Dreams," (West River Publishing, 2004) and "A Steelheader's Way."(Headwater Books and Stackpole Books, 2009) Both books are available from The Native Fish Society on CD as "books on tape," read entirely by the author. A third book called "The Great Anglers" (Headwater Books Inc) will be released soon and is a remarkable, one of a kind look at the "inner game" and psychology of fishing and what it takes to consistently succeed.

Throughout his career, he has supported conservation efforts including Trout Unlimited, California Trout, and The Federation of Fly Fishermen. Lani was a founding director of The Babine River Foundation and the North Coast Steelhead Alliance. Lani was inducted into the Fly Fishing Hall of Fame in 1997.


Check back later for some content here. Thank you!